2014-04-08
LINE FRIENDS 互動樂園展覽
LINE FRIENDS Interactive Amusement Park Exhibition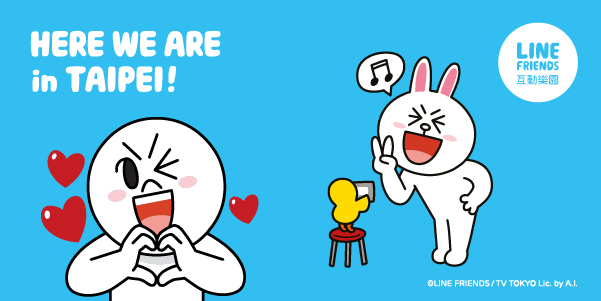 2014年最令人期待的展覽!
風靡全球的手機通訊軟體LINE,旋風登台!
展覽特色
★ 全球首創‧LINE FRIENDS大型公仔,九大LINE FRIENDS全集合,讓你拍到手軟!
★ 獨家公開‧LINE總部珍藏設計稿,創意無限,讓你一次看個夠!
★ 展覽限定‧LINE特製擴增實境APP,隱藏版LINE FRIENDS現身,驚喜連連!
★ 全台唯一‧LINE商品專賣店,網羅進口及限定商品,錯過可惜!
展覽介紹
為了感謝台灣民眾的熱情支持,跨韓國、日本的LINE headquarter決定將世界首場《LINE FRIENDS互動樂園》獻給台灣!由LINE設計團隊操刀,打造史上第一個互動樂園,保證讓你玩到忘我,一刻也不想離開。
The most anticipated exhibition in 2014!
Internationally acclaimed mobile messaging app LINE is about to take Taiwan by storm!
♦ Global first:large LINE figurines, total of nine major characters for you to take as many photos of as you like!
♦ Exclusive collection:rare LINE illustration, unlimited creativity for your viewing pleasure!
♦ Exclusive to this exhibition:exclusive LINE AR app, unveiling of a secret LINE friend to bring you constant surprises!
♦ The only one in Taiwan:LINE pop-up store, offering a plethora of imported and limited edition products that you cannot afford to miss!